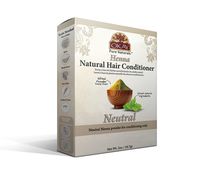 Description
OKAY Henna Natural Hair Conditioner provides shine and nourishment to any hair type. This Premium quality, finely-sifted powder adds luminous shine, conditioning, and protection to hair leaving it healthy and beautiful.
Ingredients: Neutral Henna (Cassia Obovata)
Warning: It is recommended before using this product to do an allergy patch test. Although this is a 100% herbal product, in rare instances, some individuals may be allergic to herbal ingredients.