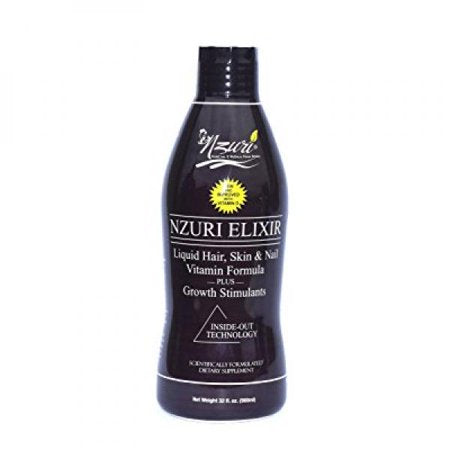 Description
Directions: Shake well Take 1 fluid ounce with food (2 Tbsp. or 30 mL) daily with food, either directly or mix with juice. Refrigerate after opening. Thickens when refrigerated. * Daily value (DV) not established 3 Ways to Use Nzuri Elixir Liquid Hair Vitamin: Nzuri Elixir Liquid Hair, Skin and Nail Formula – Drink 1 ounce Daily with Food – Over 61 Vitamins and Minerals that the hair is craving. End suffering from dry, dull, brittle, or slow growing hair. Taste great alone or in smoothies for Hair Growth Smoothies. Take with food Apply to Face for Glowing Skin – Get rid of acne, rash, and pimples by Applying Nzuri Elixir Vitamin nightly to entire face and neck with cotton ball, let soak in overnight. Give your face a vitamin infused night mask. Rinse off in a.m. and See results within a week's experience clear and soft and glow lovely looking skin. Hair Growth Fertilizer - Add 4 Capful of Nzuri Elixir, 1 oz. Nzuri Hair Oil, 8 oz. Distilled Water in spray bottle. Spray hair daily for Vitamin Infused Hair Growth Fertilizer Spritzer. Adds Nourishment and Moisture to Hair.
Supplement Facts
Serving Size: 1 fl oz. (2 tablespoons)
Servings Per Container: 32
Amount Per Serving% Daily Value
Total Carbohydrate 5 g2%*
Vitamin A (as retinyl palmitate) 1,000 IU 20%
Vitamin C (as ascorbic acid) 60 mg 00%
Vitamin D (as cholecalciferol) 1,000 IU 250%
Vitamin E (as d-alpha-tocopheryl acetate) 30 IU 100%
Thiamin (as thiamin Hcl) 1.5 mg 100%
Riboflavin (as riboflavin-5-phosphate) 1.7 mg 100%
Vitamin B6 (as pyridoxine Hcl) 5 mg 250%
Folate (as folic acid) 800 mcg 200%
Vitamin B12 (as cyanocobalamin, methylcobalamin
and co-enzyme B12) 250 mcg 4,167%
Pantothenic acid (as D-panthenol) 20 mg 200%
Iodine (as potassium iodide) 150 mcg 100%
Zinc (as zinc citrate) 7.5 mg 50%
Selenium (as selenomethionine) 70 mcg 100%
Copper (as copper citrate) 1 mg 50%
Grape skin & seed extract 25 mg †
Proprietary Blend:
Aloe vera leaf, grape juice concentrate, green tea leaf extract, hyaluronic acid, inositol, DMAE
bitartrate, resveratrol, calcium pyruvate, flaxseed, PABA, choline bitartrate, horsetail (aerial parts),
silica, pine bark extract, alpha lipoic acid, melon pulp (14,000 IU SOD activity per gram)
(Extramel™), borage seed, CLA3,540 mg†
Collagen Hydrolysate providing:
Glycine, L-Proline, L-Hydroxyproline, L-Glutamic acid, L-Alanine,
L-Arginine, L-Aspartic acid, L-Lysine, L-Serine, L-Leucine, L-Valine,
L-Phenylalanine, L-Threonine, L- Isoleucine, L-Histidine, L -Hydroxylysine, L- Methionine,
L-Tyrosine, L-Ornithine, L-Cystine100 mg†
* Percent Daily Values are based on a 2,000-calorie diet.
† Daily value not established.
Other ingredients: Purified water, dried cane syrup, glycerin, natural & artificial flavors,
citric acid, blueberry juice (for color), potassium benzoate (preservative), potassium sorbate
(preservative), polysorbate 80, xanthan gum and stevia leaf extract.