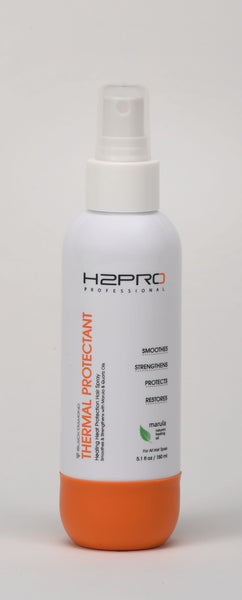 Description
Healing Heat Protection Hair Spray The H2PRO Black Diamond Thermal Protectant is a lightweight spray that protects hair from heat up to 450°F. A highly therapeutic blend of Rosemary, Chamomile, and Witch Hazel balance pH and restores scalp health for improved hair growth. The magical Marula Oil protects hair from environmental aggressors and regenerates hair for ultimate shine and health. Damaged and broken hairs are restored and hair regains shine to create a frizz-free, glowing style.
To Use: Spray Thermal Protectant on damp or dry hair and style as usual.
Marula Oil – Rehydrates, Protects, Regenerates Quartz Oil – Strengthens, Promotes hair growth Black Sesame Oil – Keeps natural hair color Black Cumin Seed Oil – Maintains healthy scalp Rosemary – Promotes hair growth, Removes dirt and oils Chamomile – Prevents dandruff Witch Hazel – Balances pH, Nourishes scalp.