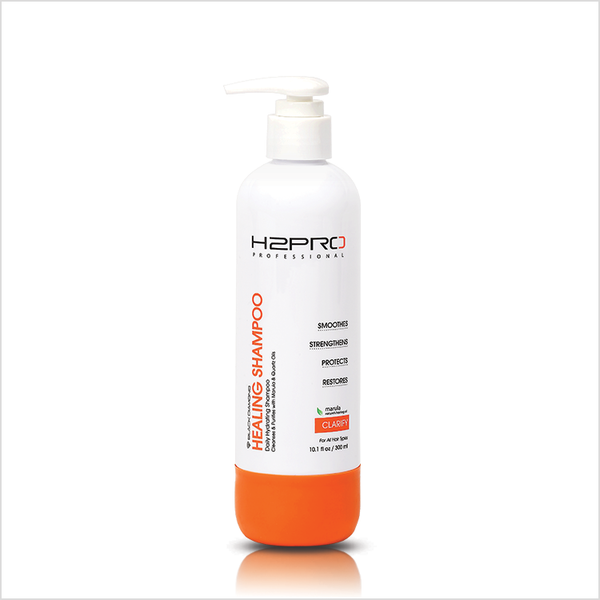 Description
Daily Clarifying Shampoo The H2PRO Black Diamond Clarifying Shampoo deeply cleanses the scalp and hair without stripping moisture or natural color. Our hydrating blend of Marula, Quartz, Black Cumin and Black Sesame, and Coconut oils rids hair of impurities while strengthening with minerals and vitamins to keep locks strong and healthy.
To Use: Apply Clarifying Shampoo generously to wet hair and gently massage into a later from scalp to end. Rinse and repeat if needed and follow with Hydration Shampoo and Healing Conditioner.
Marula Oil – Rehydrates, Protects, Regenerates Quartz Oil – Strengthens, Promotes hair growth Black Sesame Oil – Keeps natural hair color Black Cumin Seed Oil – Maintains healthy scalp Coconut Oil – Cleanses without drying hair.
What is Marula? Sclerocarya birrea, commonly known as the marula is a medium-sized dioecious tree, indigenous to the miombo woodlands of Southern Africa, the Sudano-Sahelian range of West Africa, and Madagascar. It's fruit has a light yellow skin rich in Vitamin C–up to 10 times more than an orange. The marula is rich in minerals like iron, zinc, magnesium, phosphorus, and copper which promote healthy hair. High amounts of oleic acid stimulates hair growth, making hair thicker, longer, and stronger, protecting from environmental aggressors like the sun, wind and pollution. Lightweight & Fast Absorbing Penetrates and hydrates deep into the roots Won't flatten style or leave it looking greasy Rich in minerals (iron, zinc, magnesium, phosphorus, and copper). Helps promote healthy hair Contains up to 10 times more Vitamin C than orange fruit High in Omega-9 fatty acids, aka Oleic Acids Oleic acid stimulates hair growth, making hair thicker, longer, and stronger Protects from environmental aggressors like the sun, wind, and pollution Rich in amino acids Helps to regenerate hair follicle cells Increases shine and luster