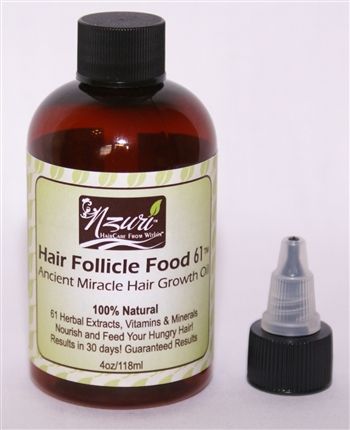 Description
Nzuri Hair Follicle Food 61 has a special scientific blend of over 61 holistic herbal extracts, essential oils and vitamins to nourish and feed your hair follicles which house the root of your hair. The follicle is the foundation of healthy hair. Similar.

Nzuri Hair Follicle Food contains a variety of herbal ingredients that work together to create a product that nourishes your hair and encourages hair growth. Stimulates hair growth, Helps promote hair growth, thin edges, Alopecia, Slow hair growth, Hair shedding, Hair breakage, Weak and brittle hair. 

Directions for Hair Follicle Food 61:
Apply to scalp and hair from roots to end. Leave on for a minimum of overnight or a maximum of 2 days. Rinse out with Nzuri Sulfate Free Shampoo or any Sulfate Free Shampoo. May also use as a hot oil treatment. Apply liberally to hair, put on a plastic bag and sit under warm dryer for 30 minutes. Rinse out within 24 hours.
This is a hair oil treatment. Do not leave in for more than 2 days at a time.
Ingredients: Eclipta alba, Neem, Amla, Rosmary, Sesamum indicum, Tea Tree, Henna, Eucalyptus Globules, Lemongrass, Sweet Peppermint, Basil, Olea Europaea, Prunus Amygdalus Dulcis, Simmondsia Chinensis, mentha piperita, Centella asiatica of, Camellia Sinensis, of Aloevera, Kapoor Kachari, Cinnamomum Camphor.