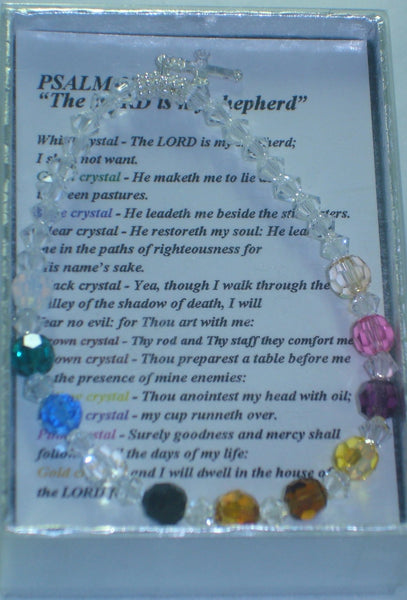 Psalm 23 Crystal Bracelet
Description
Stretch Psalm's bracelet is made of high-quality crystal beads, sterling silver bead accent and sterling silver cross.  
This bracelet is made with high quality crystal that has a beautiful luster and sparkle to it.  While there are many other types of crystal beads and jewelry components on the market, the crystals used in this bracelet are known for its highest quality in the industry.
How to care for your crystal jewelry: You should treat your jewelry the same as all other fine jewelry.  Avoid exposing the crystal to water, chemicals or harsh treatment from work or sports. Only use a mild soap, water, and a soft cloth for cleaning and polishing Swarovski jewelry and crystals.  Store your crystal jewelry in a way that it will not be scratch.