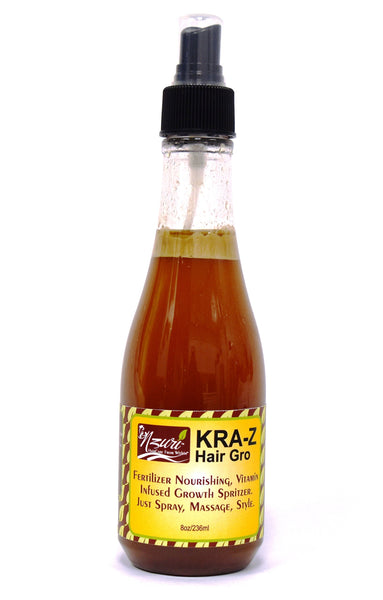 Description
Directions for Kra-z Hair Gro Fertilizer Nourishing, Vitamin infused Growth Spritzer:
First 
apply
 fertilizer spritzer to wet or damp hair. Be sure to shake this product well to get all the good vitamins from the bottom. Make sure it reaches and seeps into the hair and reaches the scalp. Massage it thoroughly throughout entire head and scalp. When hair is thoroughly saturated, style as desired. Your scalp will love how it feels with this nourishing deep treatment. It is infused with the ever-popular Nzuri Elixir Liquid Hair Vitamins and our special 
hair growth
 oil blend for nourishment your hair has craved. Nzuri Kra-z Hair Gro Fertilizer contains a variety of herbal ingredients that work together to create a product that nourishes your hair and encourages hair growth. Stimulates hair growth, Helps promote hair growth, thin edges, Alopecia, Slow hair growth, Hair shedding, Hair breakage, Weak and brittle hair.
You may also use this as a deep conditioner by applying and sitting under a cool to warm dryer for 30 minutes. If your hair could talk it would scream "Thank You!" for this gourmet meal.
Features

Indications


Nourishes Hair
Stimulates hair growth
Helps promote hair growth
Thin edges
Hair shedding
Hair breakage
Weak and brittle hair
Hair thinning
Strengthen hair roots.
Reduces Hair Fall
Kills bacteria that prevents hair from growing
DHT Blocker
Greatly assists in helping hair to grow faster and longer
Guaranteed to Work
Distilled Water, Nuri Elixir Hair vitamins, Hair Follicle Food 61 Growth Oil.