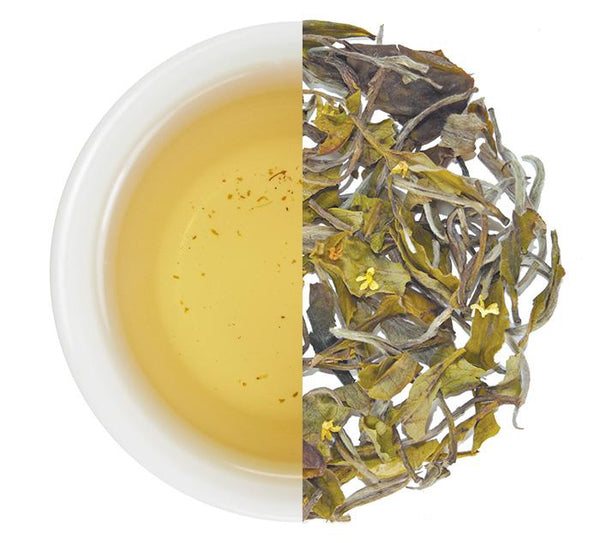 Natural Glow-Organic White Tea
Description
Tasting Notes: This tea is an artfully handcrafted blend of white tea sprinkled with sensuous apricot-smelling petals from exotic osmanthus blossoms. It is grown in an unadulterated, mountainous corner of Guangxi Province, next to Yunnan Province and Vietnam. This high altitude region is at the forefront of organic farming in China. Natural Glow has for its base a large-leaf white tea , from the Da Bai Hao cultivar, raised on a 150 acre high-altitude terraced tea garden, which prides itself on using traditional sustainable farming methods and fastidious production. The tea is cultivated, harvested and processed on-site to ensure the process and purity of the end product, and the osmanthus flowers hail from a stunningly beautiful part of Guangxi Province, rich in limestone, named Guilin, which means "Forest of Sweet Osmanthus".
Features: Organic loose leaf white tea Premium white tea blend Origin: Guangxi, China Sample ~ 5 servings
No flavorings
Ingredients: organic white tea, organic osmanthus flowers
Tea Benefits: WHITE TEA Increases Mental Awareness and Focus, Calming Most Powerful Anti-Oxidant, Anti-Aging Calorie-free, Fat-free, Gluten-free, Extremely low in caffeine
OSMANTHUS
Aromatherapeutic, calming effects Tea infused from the leaves of the Camellia sinensis plant is the world's most popular beverage after water. The darker the tea, the more processing it has undergone, and the more processing, the more antioxidants are lost. White teas are made from buds and young leaves, which are steamed or fired, and then dried. The closest thing to fresh tea leaves, white tea retains the highest concentrations of catechin polyphenols, which research shows may help prevent cancer, lower blood cholesterol, and control high blood pressure.
* These statements have not been evaluated by the Food & Drug Administration. This product is not intended to diagnose, treat, cure, or prevent any disease.