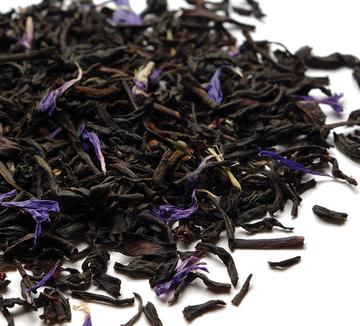 Description
Blender's Notes:
This unique blend takes traditional Earl Grey to the next level by combining the expected bergamot flavoring on full leaf black tea then adding the perfect proportions of other citruses, vanilla, licorice root, and mallow flowers. The result is a captivating aroma and a deep liquor with a well-balanced, smooth, bright, and slightly creamy flavor profile. This tea is for those who like to veer from tradition, explore new ground, and a must for those with fond memories of the orange-creamsicles of childhood. It pairs perfectly with strong cheeses or creme brulee.
Features:
Vanilla Earl Grey de la Creme
Boasted Best Earl Grey Ever, by us!
aka Earl Gray by some =)
Tasty in lattes, cookies, & cocktails
Sample ~ 5 servings
Caffeine: High
Ingredients: black tea, citrus rind, licorice root, mallow flowers, bergamot, citrus & vanilla flavoring
Tea Benefits:
Black tea can be used in a rinse to promote hair growth and reduce shedding.  Black tea contains a lot of caffeine, which blocks the hormone called dihydrotestosterone, otherwise known as DHT.  DHT is known to cause hair loss.  Black tea can also help to thicken the hair and make it stronger.
Brew up a cup of fresh black tea and allow it to cool.
Use the tea to rinse your hair.
Let it sit on your hair for 30 minutes  and rinse out the residue with clean, warm water or some  gentle shampoo.
BLACK TEA
Uplifiting, yet reduces Stress Hormone Levels
Anti-Bacterial,
Anti-Viral Anti-Oxidant,
Anti-Aging
Calorie-free, Fat-free
Black Tea is known to banish fatigue, stimulate mental powers, and raise energy levels. It has been shown to reduce stress hormone levels and acts as a nerve sedative, frequently relieving headaches. Black tea contains a number of vitamins considered essential for maintaining health, including Carotene, a precursor to vitamin A, has antioxidant and protective properties, Vitamin B1 and Panothenic Acid, Vitamin C and Vitamin B6.
Black Tea also contains antioxidants which may help to protect your body from the ravages of aging and environmental effects. Because they are allowed to ferment completely before drying, most black teas are especially rich in those polyphenols which have been shown to be effective against dementia in aging as well as AIDS related dementia. These compounds penetrate the blood brain barrier and have also been found to reduce blood cholesterol levels.
Black tea is known for its antiviral and antibacterial properties. It can be topically applied to cuts, bruises and burns, and is famous for its sunburn relief and has been shown to have a positive effect on preventing tooth decay and gum disease.
* These statements have not been evaluated by the Food & Drug Administration. This product is not intended to diagnose, treat, cure, or prevent any disease.